I am very excited to announce this week ManPan's will be giving away to one of our viewers one of their wonderful pans.  I have been using my pans for almost two months now.  I love my ManPans Wok.  This pan has become my goto pan, I have used this pan to grill steaks, cook bacon, prepare soups, and I have grilled more ground meat and sausage in this pan than you can imagine.  Why do I love my new pan?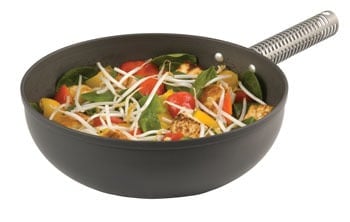 The handles don't get hot.  I have a really nice set of pans that are stainless steel, but I have burned myself on those pans more times than I care to mention.  These handles never get got.
The handles have a good grip, don't you want to be able to grab a pan, and easily flip around your ingredients without a utensil just like a chef?  Well, you can with this pan, it is so easy to do.  This firm handle that doesn't get hot makes this so easy.
Food doesn't stick in this pan, if you have used stainless steel, you know that from time to time, things stick in your pan, well not in this one.  This special coating doesn't allow for food to get coated onto your pan.
This pan heats evenly and quickly.  You don't have to wait too long for this pan to be ready to start your cooking.
I haven't been this enthused about cookware in awhile.
Do you want your chance to win this wonderful pan?  All you need to do is to subscribe to our mailing list, and guess what you will be entered to win one of these terrific pans.  Don't miss your opportunity to sign up to win a free pan from the folks at http://www.manpans.com .
Please note, the winner has been drawn, once they respond I will announce the winner