Starbucks Banana Walnut Bread to enjoy with a cup of coffee at Starbucks. Starbucks Banana Walnut Bread is one of my life's little pleasures.  Freshly  baked Starbucks banana bread is hard to beat.  Starbucks Banana walnut bread isn't difficult to make, in fact you can make banana walnut bread that will taste just like Starbucks.  I recommend using bread flour if you have it on hand, as it gives the bread a more dense feel.  Why not try making some this banana walnut bread, and bring it to your co-workers. Unlike in the store, you can enjoy this banana walnut bread while it is still warm out of the oven.
Starbucks Banana Walnut Bread
Starbucks Banana Walnut Bread
Author:

CopyKat.com

Recipe Type:

Bread Recipes, Copycat Restaurant Recipes, CopyKat Recipes

Prep time:

10 minutes

Cook time:

1 hour

Serves:

8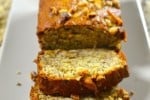 You can make this coffeehouse classic just like they do.
Ingredients
1 3/4 cups flour (bread flour is best)

2/3 cup sugar

2 teaspoons baking powder

1/2 teaspoon baking soda

1/2 teaspoon salt

1 cup mashed ripe (this is usually 2 or 3 bananas)

1/3 cup margarine

2 tablespoons milk

2 eggs

1 cup chopped walnuts (divided into 2 (1/2 cup) portions
Instructions
Preheat the oven to 350 degrees.  In a medium size bowl combine all dry ingredients (flour, baking powder, baking soda, and salt), stir together to combine.  In another medium size bowl combine margarine and sugar, with a mixer cream the margarine, and sugar together until light and fluffy.  Add in mashed bananas, eggs, milk and mix well.  Add 1/2 of the dry ingredients into the wet ingredients, mix until the flour is just mixed in, then add in the remaining flour and 1/2 cup walnuts, blend together until everything is mixed together.  Do not overstir.
Pour batter into a greased 8x4 inch loaf pan.  Then top the batter with the remaining chopped walnuts.   Bake at 350 degrees for 55 to 60 minutes or until a toothpick inserted near the center comes out clean.  Cool for 10 minutes on a wire rack.
While Starbucks does not make their banana bread with butter, I think this comes out more rich this way.   I also like to add in a sprinkle or two of cinnamon and sugar into this, again, not in their recipe, it does add that little something extra.
Print Recipe