This recipe is from Maida Heatter's Book of Great American Desserts. She is known for delicious desserts. Why use a box mix when you can make this one so easily?
Hershey's Brownies
Don't miss out these delicious and easy to make brownies. Try making these at home, and you will wonder why you ever used a box mix before. One of the best things about making homemade brownies instead of using a box mix is that you eliminate a lot of the preservatives that are in boxed mixes. I love it when I can make great tasting brownies without using a box mix.
These brownies are creamy and soft. You will love to make up a batch of these simple brownies. You can add nuts if you desire. I like either walnut, I have also made this with chopped almonds, and I thought they were fantastic with either nut. If you like you could even add in a bag of the caramel pieces that are often sold during the fall.
Yield: 16 servings.
Hershey Brownies
Author:

CopyKat Recipes

Recipe Type:

Cookie Recipes, CopyKat Recipes

Prep time:

10 minutes

Cook time:

25 minutes

Serves:

8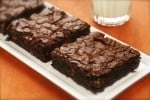 There nothing that beats a warm chocolate brownie.
Ingredients
1/2 cup flour

1/3 cup cocoa (Hershey's)

1/4 teaspoon baking powder

1/4 teaspoon salt

1/2 cup butter

1 cup sugar

1 teaspoon vanilla

2 large eggs

1 cup walnuts, broken into pieces (optional)
Directions
Preheat oven to 350 degrees. Line a 9" square pan with foil and butter the foil. Sift together flour, cocoa, baking powder, and salt. Melt butter in a 10 - 12 cup saucepan over moderate heat. Stir in sugar and vanilla, and add eggs one at a time. Stir in dry ingredients, and stir in nuts. Spread smoothly in prepared pan. Bake 20 - 25 minutes, or until toothpick inserted in the center just barely comes out clean.
Cool in pan 15 minutes. Cover with rack and turn pan over. Remove pan and foil lining. Cover with a cutting board and turn back over again.
Let stand until cool.
Print Recipe