This Oreo Cheesecake is a creation of the Cheesecake Factory—they know their cheesecakes. It is one of my personal favorites. You can't go wrong with this one. Who can turn down a cheesecake with Oreo cookies?
All ingredients need to be at room temperature before you begin. And keep the mixer on a low setting during the mixing and beating process.
Please note there is an additional 1 cup of butter that was added into the batter when I made it for the video. This is an optional ingredient. It simply adds some extra richness to the cheesecake. You can leave it out, or add it like I did for the video.
Is a Waterbath Necessary for this Oreo Cheesecake?
It is not necessary it is highly recommended. Please consider using a waterbath for this recipe. It helps to moderate the temperature of the oven. Most ovens do not heat continually, they cycle between not heating, and then heating to maintain the temperature.
What size of pan do I use
Ideally please use the 8 inch sized pan, this is the size of pan this recipe was developed for. If you use a 10 inch pan your cooking time will be less, and will not be as written here on this recipe.
Cheesecake Cooking Tips
All ingredients should be at room temperature before cooking. This ensures a more even baking time.
Cheesecakes may not be fully set when removed from the oven – this is OK. Cheesecakes will set up after baking.
Do not over-mix the cheesecake, it will fall if too much air is whipped into the cheesecake. Mix only until ingredients are incorporated. Beating a cheesecake for 2 or 3 extra minutes is not helpful.
To prevent cracking when the cheesecake cools run a knife around the edge of the pan to loosen the cheesecake from the springform pan. Once the cheesecake cools completely remove the springform pan.
How many Oreos do I use?
We are using Oreo cookies in three different measurements. For the crust you need to crush the cookies before you measure them. For the batter you will use 6 cookies, and for the top of the cheesecake you will use 8 cookies.
Cheesecake Factory Bakery Oreo Cheesecake
Author:

CopyKat.com

Recipe Type:

Dessert Recipes, CopyKat Recipes, CopyKat Restaurant Recipes

Prep time:

25 minutes

Cook time:

1 hour

Serves:

10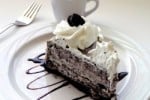 Cheesecake Factory cheese cake is so yummy. And this recipe is just as yummy!
Ingredients
Please note: this recipe tastes best when you allow it to rest for 24 hours before serving. It isn't necessary, but a suggestion for optimal flavor.

Crust

1 1/2 cups Oreo cookie crumbs (about 23 Oreos, finely chopped)

2 tablespoons butter, melted, plus more for the pan

Filling

3 (8-ounce) packages cream cheese, at room temperature

1 cup sugar

5 large eggs, at room temperature

2 teaspoons vanilla extract

1/4 teaspoon salt

1/4 cup all-purpose flour

1 (8-ounce) container sour cream, at room temperature

6 Oreo cookies for the batter

9 Oreo cookies for the top of the cheesecake

OPTIONAL INGREDIENT

1 cup of butter

Pan Needed

8 inch Spring Form Pan
Instructions
Crust
Mix melted butter with Oreo crumbs and press in an 8 inch spring pan cover the bottom and 1 1/2" up the sides with crumbs, set aside. Note, you do not remove the filling of the cookies, when you make crumbs out of them. Leave the filling in the cookies when you crush them.
Filling
All Ingredients need to be at room temperature before beginning. Beat cream cheese until light and fluffy (You can add the 1 cup of butter as listed as an optional ingredient). Keep mixer on a low setting during the mixing and beating process. Add sugar gradually and continue beating cream cheese until mixed through. Add eggs one at a time and continue to beat until blended. Measure the vanilla, salt and flour, pour into the cream cheese and egg mixture and beat until smooth. Add the sour cream and beat well. Turn off the mixer and stir in the 6 coarsely chopped Oreo cookies with a spoon.
Pour cream cheese into the spring form pan and place the 8 coarsely chopped Oreo Cookies on top of the cream mixture. Place pan on the top rack and in the middle of a preheated oven at 325 degrees and bake for one hour. The cheesecake will be done when it jiggles slightly in the middle when the pan is gently shaken. If the cheesecake is very jiggily, then cook for an additional 15 minutes. When time is up prop the oven door open and let the cheese cake stay in the oven for one hour. Remove from oven and let cool enough to place in the refrigerator for 24 hours. It is worth the anticipation. A cheese cake should season. The flavor ripens and becomes enriched.
Yield: 16 servings
Print Recipe